---
Please take a peek at this page often because I update it weekly. On this page you will find a snapshot of our academics for the week and any special announcements or events. 
---
2-12-18 
2-12-18
Conferences:
Don't forget to sign up online for conferences!
Thursday, March 1st
Thursday, March 8th
Friday, March 9th
1-19-18

1-11-18
Book Talk Reminder:
Please do not stress about the book talks. They are not meant to create more work for parents. I do not expect students to be writing full paragraph form descriptions yet. That is a goal we are working on for the end of the year. Students are transitioning to doing the book reports on chapter books instead of picture books.  They should be using 2-3 complete sentences with proper punctuation in each category.  The idea behind the book talks is to motivate, inspire, and share quality literature with other students in hopes to "hook" not only the avid readers, but the reluctant readers as well, into enjoying independent reading. As well as to see what the student is capable of producing. 
1-3-18 Below is the link for Typing club. 
10-18-17
*Don't forget to continue to practice your basic addition, subtraction & multiplication math facts at home. Students can take home time tests to practice or you can print them from our classroom website. 
---
***DATES TO REMEMBER:  
2-28-18    Workout Clothes
3-1-18       Olympic Reading Sheets Due, Koo Koo Kangaroo @ 2:00 pm
3-1-18       Parent/ Teacher Conferences 5:00-8:00 pm
3-8-18       

Parent/ Teacher Conferences 5:00-8:00 pm
3-9-18       

Parent/ Teacher Conferences 10:00-4:00 pm
3-15-18

     Family Fun Night - Bouncy Houses, D.J., Face Painting, Pizza,
3-16-18     3rd Grade Vocab Parade 2:30 pm
3-26-18  to 3-30-18  NO SCHOOL, SPRING BREAK
---
Reading 

Adjectives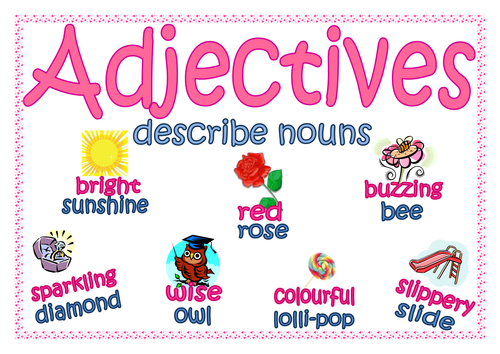 ---
---
**Remember to practice your addition and subtraction facts at home. As well as telling time! Please remember that your child is NOT graded on their time tests but it is still very important. This is used to measure the progress of their fact fluency.
Check out our math page for helpful videos on math strategies learned in class! It also has a link to websites that we use in class to reinforce concepts.  
Mrs. Belanger's MATH Symbaloo Page 
---
Science Chapter 13 & 14
Light & Sound
---
We have started a quick review packet of printing and that will last another week or two. Students get a handwriting grade in third grade. Please encourage your child to take their time. There will be times that I will ask students to try it again if I can not read it. I remind them if I have to squint to read it then I will get "Granny wrinkles" so please don't make me squint. :)  After that we will begin with cursive handwriting! I know many students are excited to learn cursive!   
---
Hello Families,
I wanted to inform you about Character Education that we will be starting this year.  Every month, as a class, we will discuss and learn about a new, positive character trait.  Students will be encouraged to demonstrate these character traits throughout the time we are learning about each one.  At the end of each month, students who have regularly demonstrated or shown growth in the current character trait will be recognized in front of the class, and hopefully Mr. Pribyl, and presented with a certificate.  The character traits we will be focusing on are:
Respect (September)

Empathy (October)

Kindness (November)

Responsibility (December)

Self-Control (January)

Perseverance (February)

Honesty (March)

Courage (April)

Forgiveness (May)
My goal is to encourage students to positively engage with and treat other students and adults in our school.  These character traits will help students become better problem-solvers and build strong relationships with the people in their lives.  If you have any questions, please let me know!
Thank you,
Third Grade Team